These cute flip flop / sandal door decs almost look like they could be the real thing but they are really easy to make. I used a template to cut out the soles from different patterned paper and used recycled plastic bag handles for the flip flop straps.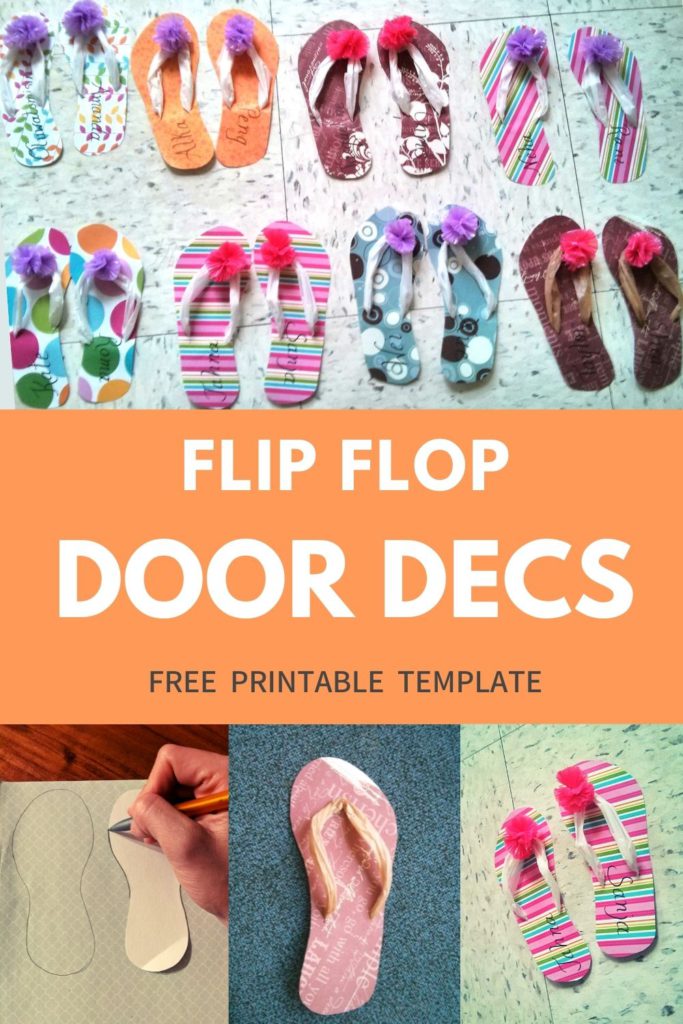 How to make the door decs
Step 1 – Trace 
Download the printable shoe sole template provided. If your patterned paper is a standard size that fits in your printer, you can print the template directly onto your paper. Otherwise, you can print the template on regular paper and cut it out then use that to trace shoe sole shapes onto your scrapbook/craft paper. Make sure you're tracing the shoes in both orientations (right and left) so that you end up with mirrored pairs.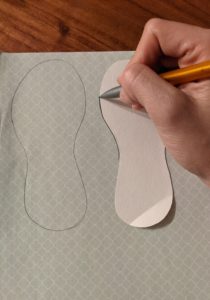 Step 2 – Cut out soles
Once you have the template printed or traced onto your craft paper, cut out each sole.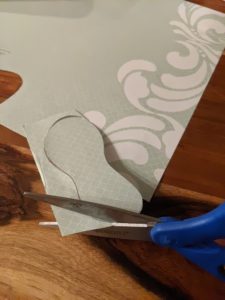 Step 3 – Make the slits/holes for the straps
Next we need to cut the slits for the flip flop straps. Fold the sole in half as shown in the image and cut 1 slit on each side. In addition cut out a slit near the top middle area for the point where the straps will meet. If you have a paper punch you could use this to make holes in place of the slits. 
Step 4 – Cut the strips of plastic for the straps
Cut the handles from a recycled plastic bag. We will use this piece for our flip flop straps. You can use other parts of the bag as well but the strap is most convenient since it is already in the form of a strip. Depending on the bag, if the strip is too wide, you may have to cut it once lengthwise.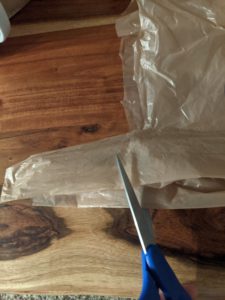 Step 5 – Thread the straps through
Thread the strip of plastic bag through the top middle hole, then through the other s holes/slits on each side of the flip flop sole.
From the back of the sole, trim off any excess plastic and tape the end onto the back as shown to secure it.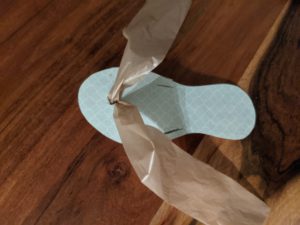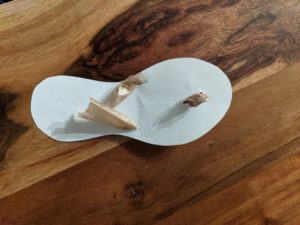 Step 6 – Finish up!
At this point, the flip flop door tag is almost done. You can further accessorize/ decorate it if desired. Other than that, simply write your residents' names onto the bottom part of the sole and you're done!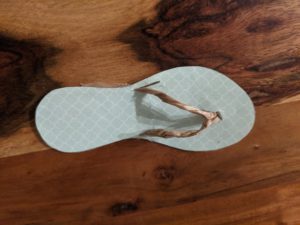 When looking for patterned paper, choose ones that are light enough in color so that when you write your residents' names they will be legible. 
If your paper is not double sided, trace the patterns onto the back of the paper so that you won't have markings left on the tags when you cut them out.
Be careful when threading through the straps. If the slit is too close to the edge and the straps are forced through the slits may tear. If that happens, you can easily use tape to fix it.